Creating Your Instagram Giveaway in 7 Easy Steps
Hey Punny People!
Many of you have asked what goes into a social media Giveaway so I'm here to spill some details that will hopefully help you coordinate your own!
I wear a lot of hats as an entrePUNeur and the owner of this shop but one my favorite as many of you probably know is coordinating all of the marketing efforts. Being an active marketer and advocate for my business has opened up a lot of doors and introduced me to some amazing people! Giveaways are a great way to get creative and collaborate.
Giveaways, especially multi-brand giveaways are a great way to collaborate with brands and founders you love! Giveaways help you grow your network, generate leads, save money (other than maybe giving away some product and the time spent coordinating its low cost), gain product exposure, and most importantly have FUN!
Ok, so here is my very loose list of tips for coordinating the best Giveaway ever!!!
1) Figure out the timing/theme. The giveaway can be inspired by an upcoming Holiday or even a social media Holiday! And One Marketing has a great Social content calendar to help inspire some fun dates to plan your giveaway!
2) Decide if you're going to do the Giveaway alone or if you'll be bringing in some other brands or even bloggers to participate. If you're going to bring in other brands it's time to put yourself out of your comfort zone and reach out! For me this is always pretty nerve-racking but at the end of the day it's important to remember even if someone says no or doesn't respond, it's not personal. Maybe it was just not a good fit, and that's totally fine!
Your message could sound something like this: "Hi my name is (insert your name) I'm the (owner/ founder/ blogger/ etc) of (business name) I'm coordinating a Giveaway and I'd love to have (business name) be a part of it! — Then spill some details about the theme, timing, price point, participating brands, etc.
3) Whether you're doing it alone or with other brands you'll need to figure out how you will share the news and what the promotion image will look like. I usually have each participating brand send me the items at this point and I coordinate a group shot of all of the items so people can see what everything looks like together. This is always the most fun for me! I love seeing how seemingly different brands can come together to complement each other in photos! You don't have to get all fancy with custom photos though. You can make a graphic (Canva has great templates for this).
Here are some Giveaway Images I've used in the past.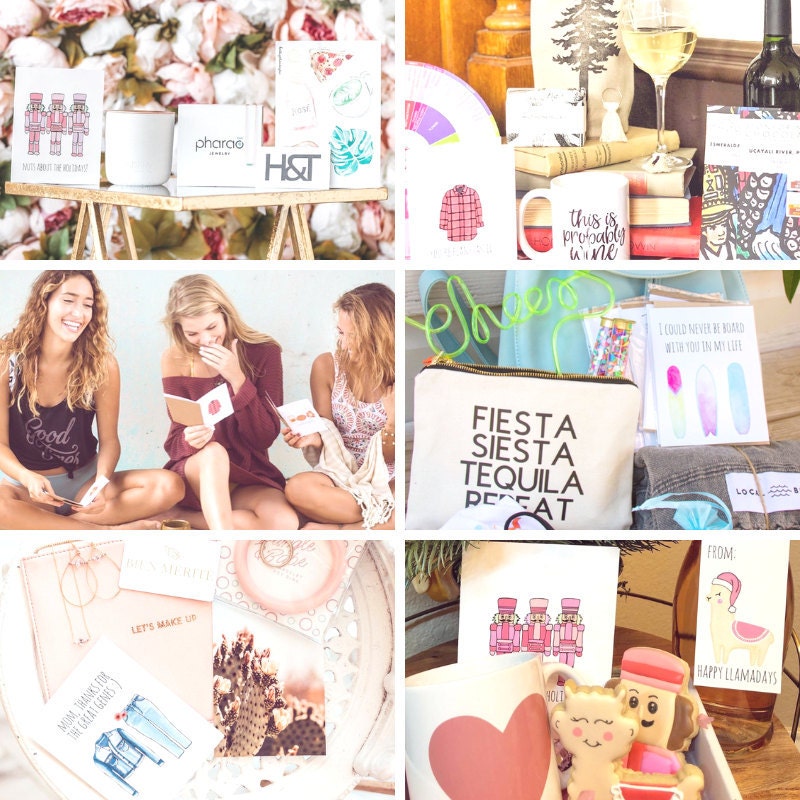 4) Make sure everyone is in the loop and agrees on a date and time to post. I usually share a very loose script of how the text should read but I encourage each brand to introduce it as they would to their own audience!
5) Post the Giveaway! I usually have them run 4-5 days. In those 4-5 days I'll reshare on stories, engage with the audience liking and commenting on my post and the other brands posts etc.
6) Once the giveaway closes, how you choose the winner depends on the rules you set up and the group you're coordinating it with. I've had brands choose a few and then we narrow it down, or I've used programs that choose a winner for me.
7) Get the address of the winner and send the items!
If you found this list helpful or if you have any questions don't hesitate to reach out! Good luck with planning your next giveaway!
xx- Angelica