10 Things I learned from my first business accelerator interview.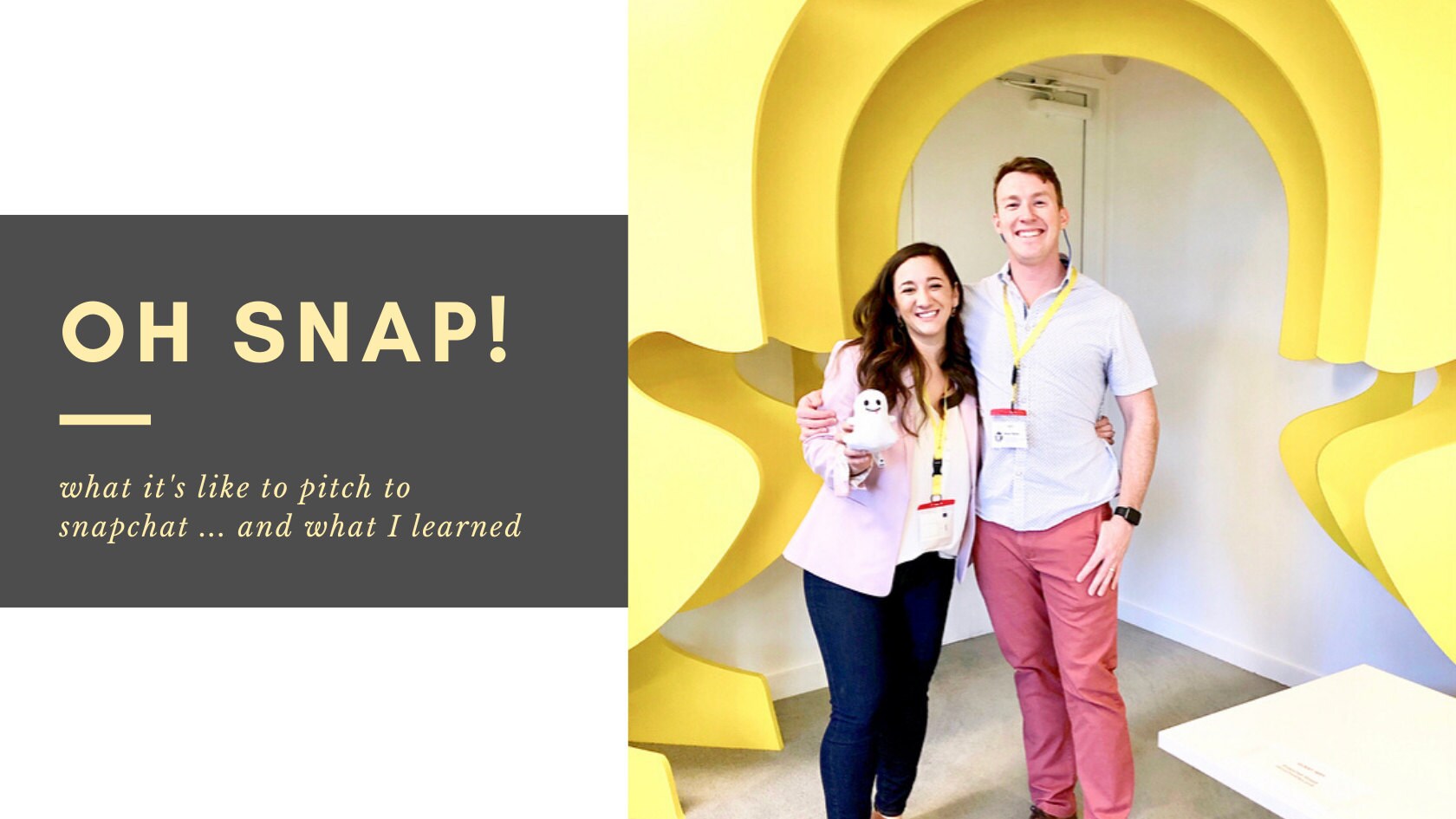 This winter I was invited to Snapchat's headquarters to pitch to its startup team called Yellow. On the line was three-months of professional mentorship in sunny LA and $150k in startup capital! It's a dream come true for ACouplePuns – storytelling, connections, and content-driven-commerce… our bread and butter. As an added bonus, our favorite punny brand grew from Snapchat. ?
How'd the pitch go? I made it all the way to the final round confident and prepared AF. Nostalgia and destiny were on my side! … or so I thought. I struck out! When I got the news, I needed a good ole' fashioned ugly cry. On the rebound, I racked my brain for answers and a little comedy to help me cope. I figure we could all learn my lessons.
Storytime!
The applications and interviews were all remote and pretty casual. I heard the pool of applications was going to be more than 1000 companies, so I approached it pretty relaxed. It was a total shot in the dark, there was no way I'd get an actual interview. Then came the blind-side! I made it to the final round! They wanted me to pitch in LA. I remember my brain thoughts … Heck yea! …Oh crap!…. I got this! …I'm panicking. This pretty much defined my three-week emotional rollercoaster in route to destination pitch-day.
Prep time. What should I say? What should I wear? Where do even begin?! They say to practice your pitch to the mirror or on friends. Yea right. My audience was the showerhead, the steering wheel, and the neighbors in the bathroom vent. When I wasn't rambling, I'd plan my outfit – as ladies do. I tried the spectrum outfits from pantsuits to ball gowns. Since I could not, Hubby decided for me… on a PINKture perfect snappy casual blazer and jeans.
Before I knew it, pitch day was here. The pitch teams were entered through the waiting room door at the center of a series of concentric neon SnapChat ghosts. It was a great Instagram shot. It complemented the well-curated explosion of color, tech demos, and snack bar in the waiting room. It'd be a great place to hang out for the eternity till my pitch… perfect for panicking
Short of guzzling guava lemonade and coffee, it went pretty much untouched for the first two hours. We all just collected right inside the door. As teams arrived, they were conscripted into the blockade of stiff-legged door-greeters. All were too stressed to break the status quo so we forced some nervous small talk to break the ice.
Other companies had teams with expert roles, year of experience, and thousands of followers… no wonder they were here. I wondered when I'd be at their level. I'm a total underdog. Whatever happened – I was just excited to be there amongst the heavy-hitters.
But you know what's crazy? – The more time I spent with them, the more I saw that we weren't all that different apart from our experience and size. Forgive the humblebrag here, but we all shared the same passion, dedication, and vision. Even though all 30ish teams came from different industries, I felt like we were all in the same headspace.
Even more fascinating was the way our anxiety showed. I expected unwavering confidence from the seasoned veterans around me. Again, they're no different. Chattering, meditation, pacing… I saw it all. One by one, I'd watch their stress rise and fall as their pitches passed. Then came my turn.
'T minus sixty minutes.' I've lost track of how many drinks I've nervously chugged over the past couple of hours. It's all I can do to stop my mouth from moving. I'm definitely sweating guava lemonade. I'm not alone though; the group has taken to nervously analyzing its contents. It's our only defense against the looming pitch stress.
'T minus thirty minutes.' I need to keep myself occupied and my hands have a mind of their own. Hubby's distant voice penetrates the white noise of my swirling thoughts. He's concerned for some reason. I snap out of it. I'm systematically shredding every leaf of the nearby plant. Find another seat.
'T minus 15 minutes.' As I drift back into my spinning thoughts, I'm starting to feel sick. It's not just the nerves. I'm literally spinning circles in the desk chair when Hubby calls me out again. I'm falling apart here. I need a distraction.
'T minus 5 minutes.' I'll join the conversation with Hubby. I'm not sure what to say so I regress to grade school fart jokes. What am I doing? Hubby breezes past my comments, skillfully shepherding the groups' attention back to the topic of discussion. 'Pitch time.' It's 11:50 AM. They don't call me in. What's happening?! I can't wait any longer! Hubby pep talks at me. Not paying attention. Thanks for trying.
They called me in after a "short" bathroom break… more like a week by my time. Everything's in slow motion. I blast through the door for the conference room where I'll give my epic pitch. I'm power walking. Why am I power walking? My pace is only outpaced by my heartbeat; it's so distracting. Edgar Allen Poe really nailed it; Tell-Tale heart has a whole new meaning. Focus on the pitch. I'll just try to envision the audience naked. People say that, right?
The door opens to the head of the pitch room. All eyes are already on me. Surrounding the mile-long conference room table are 50 naked executives. I shake it off. Nope, it's 10 fully clothed executives looking casual and thrilled to see me. Still – this is no less terrifying. The rules say I'm not even allowed to greet them! At the far end of the table is a ticking digital countdown. My mouth just starts moving.
It was all hazy like a long girls' night out. From what I can remember, I'm pretty sure I championed my speech at 2.0x speed with about 20% of the intended content. I took up two of the five available minutes. What a mess. The pressure got the best of me; I was grabbing from a trail mix bag of coined statements that didn't really have any real cohesion. This is the stuff of nightmares.
The following 10 minutes were a bit more reasonable. Executives went around the table asking pretty soft-ball and generic questions: "Who's your first hire? Tell us about your revenue stream? Where will you be in 5 years?" So, it went. It's like an awful first date. I used to be good at this. I hope I've still got it.
I didn't come down from my high for at least an hour. My cure? Everyone's overwhelming optimism and support. I expected competitiveness or cattiness amongst the teams pitching for the coveted 10 spots in the Yellow startup. Not at all! We reflected on our pitches performances and shared in our happiness and woes.
When lunchtime came the executives posed up in the waiting room and mingled with the pitch teams. Turns out, they are human. In fact, I shared a few laughs as they asked me even more questions. Still not sure if it's a good thing or bad to get more questions, but I'll go with the former.
My post-lunch departure was my opportunity to finally lay down and decompress. What a day. Time to reflect.
Three days later I got the bad news that I didn't make the program. Sure, I'm thrilled with the chance to pitch to SnapChat, but we all know that it's not enough to patch up rejection. Like a bad breakup, I pour over all the things that I could have done wrong. What's wrong with me?! What have I done?! I want them to pick me!
Hubby is great at reality checks. He's got this delightful way of dragging me out of my pity parties and lifting me back up to face the big wide world again. So here I am showcasing Dr. Hubby's cathartic reflections and wisdom. I hope we can all learn a thing or two.
Things I learned:
You're not a Goldfish, you CAN memorize a speech. Probably better to forget a line or two than 80%. Practice in front of humans, real ones, face to face. Maybe practice screwing up too, so you can be prepared.
I got further than I expected because I took a shot in the dark applying and for that reason, I was not fully prepared. Prepare more prior to applying.
Entrepreneurship world may be very competitive in specific industries but across the board, people are pretty supportive.
Stress can manifest in many ways, be aware of it. Learn to own it or minimize it as you practice.
Think about long term growth and what that team looks like.
Have that 5-year plan down. Forget imposter syndrome, own the fact that you have goals and dreams and make plans for it. Plan to be in that room again.
My passion, ambition, and ability to stay very consistent is valuable – own your soft skills!
People love what you're doing with your creativity – keep creating.
A solid support system is important so share the experience with people you love and accept all forms of their support even if they don't exactly understand your vision.
Drink more guava lemonade. 😉
There you have it Punny People! I think it's safe to say 2019 ended on a great note and with many tangible projects to work on to help get to the next level of sharing laughter with you all.
I'm excited to take all I've learned from this experience and can't wait to be in the same position again – and better prepared.
xx- Angelica